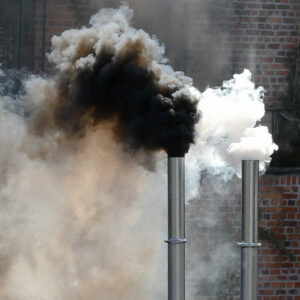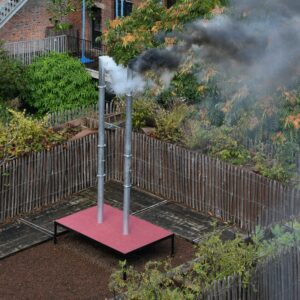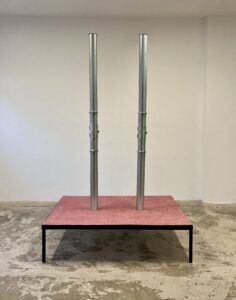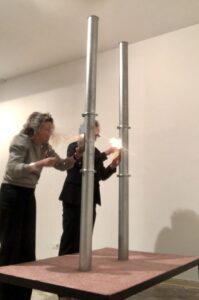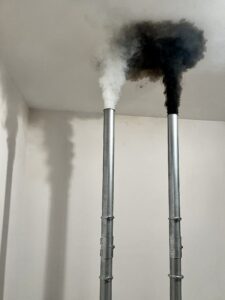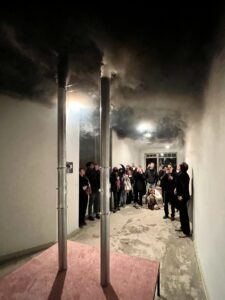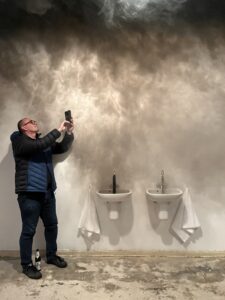 2 Pipes, carpet, mdf, fram, smoke torches
2022
By analogy with the theme of the work, the artists chose to give the work four titles that make up the title. One title bears their preference but they decided not to delete the working titles that passed review.
Within the smoke/Shall we/Cross out what does not fit/Grey areas consists of two industrial stove pipes standing on a platform covered with high-pile carpet. From one pipe, white smoke emerges at regular intervals for a minute, and black smoke simultaneously from the other pipe.
The installation reflects a world in motion. Along one side you have a delayed homeliness of high-pile carpet, along the other side you see a rapid smoking process that counts out after a minute.
Schscht leaves the interpretation of Within the smoke/Shall we/Cross out what does not fit/Grey areas to the audience, whose imagination differentiates the line of thought: is it about living life to the full or not, about consumption, polarization, choice stress, climate or something completely different? And what about these questions: what to choose and how to accept? How do we manage to gain autonomy in our decisions and choices?
Several themes linger in the smoke of this haunting installation where white counterbalances black, and vice versa. They resist each other, but are also to some extent inextricable.